So Friday morning I had to be down here in Pioneer square at 8:30 to meet the locksmith and pick up the packets at the Pioneer Square business development office. I met the locksmith (the same one that called me kiddo and yes he did it again) and was done at 8:35, I went up to pick up the packets and there was a note saying that they were out of the office but our packets were done and could I come back after 9:30.


I did what any sane person trying to kill time would do. I called my bud to see if she needed a visit.


God is sure funny sometimes!


I called at the same time that she was trying to figure out how to get all of the 250lb gift to our two soldier friends to the post office.


You see, Cori, well her hubby Dave has a brother (our bud Nathan) in Iraq, it started THERE. Cori thought it would be awesome to get her kids at church (our Awana Cubbies) to do a drive of candy, fun stuff, books, comics, that type of thing, to send to Nathan and have him distribute it to his group (whatever their called) and we sent another full set to one of our pastor's son in Afganistan. Well it started with Cori and her cubbies and then our Awana directors got word and said, let's let the whole club do it! well my goodness, the club turned out. We ended up with somewhere around 250 lbs of all kinds of stuff heading to two different parts of the world.


So I had time and she had a job. I met her at her office and we hauled that cart down a block and over a block to the post office where the post office clerk told us that we should repackage the stuff into flat rate boxes to save SERIOUS money. So we did. We built boxes, stuffed boxes and then about half way through I had to go. Cori finished it all up and filled out ALL of the international shipping forms and off it all went.


I cannot wait to hear how it all goes!


Cori and Dave busting their tails to finish up!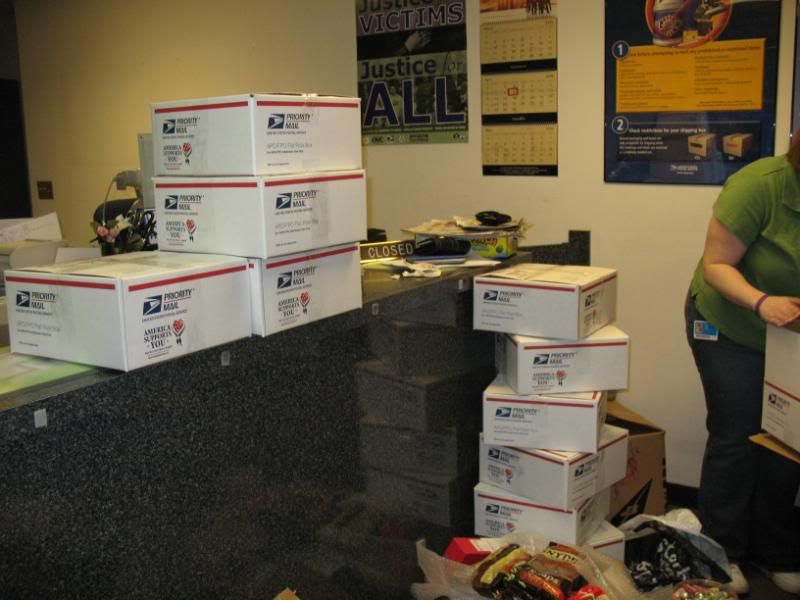 Candy Candy Candy!